A holiday in Cala Gonone, famous for its crystal-clear beaches and countless climbing and trekking routes, (here you can find more info about all the experiences you can do) will also let you discover the real Sardinia, unspoilt, made up of culture and history but above all of delicious traditional food based mainly on local ingredients such as fish, sheep and pork, and local produce such as vegetables and cheese.
Here then are the 10 foods that, in our opinion of the Biriola eco resort (back link), you should definitely try during your trip to Cala Gonone:
Porcetto
Porcetto is a roast pork cooked slowly over a grill. It is a typical Barbagia dish and is usually served during festivals and celebrations, accompanied by Cannonau, a typical red wine.
Culurgiones
Culurgiones are ravioli filled with potatoes and mint, usually served with a tomato sauce, but over time also served with different variations. This dish is very typical in Ogliastra.
Seadas
Seadas are crispy pastry filled with soft, fresh pecorino cheese, sometimes with the lemon aroma; they are served as a dessert covered with honey or sugar.
Maccarrones de Punzu
Maccarrones de Punzu is a typical sardinian pasta, generally served with tomato sauce or sausage ragu and served with pecorino cheese
Pane carasau
is one of the most famous Sardinian specialities. It is made of thin slices baked in the oven, which are then folded in half. carasau bread is perfect as an accompaniment for a wide range of dishes, from cheeses to cured meats. It is often served with oil and salt and baked in the oven: the name of this type is Pane Guttiau
Pane Frattau
Pane frattau is a dish made with layered carasau bread, pecorino cheese, fresh tomato sauce and is usually served with a poached egg on top
Casadinas
Are a typical dish from the Dorgali area, they are small quiches filled with fresh pecorino cheese and mint, they are usually served as an appetiser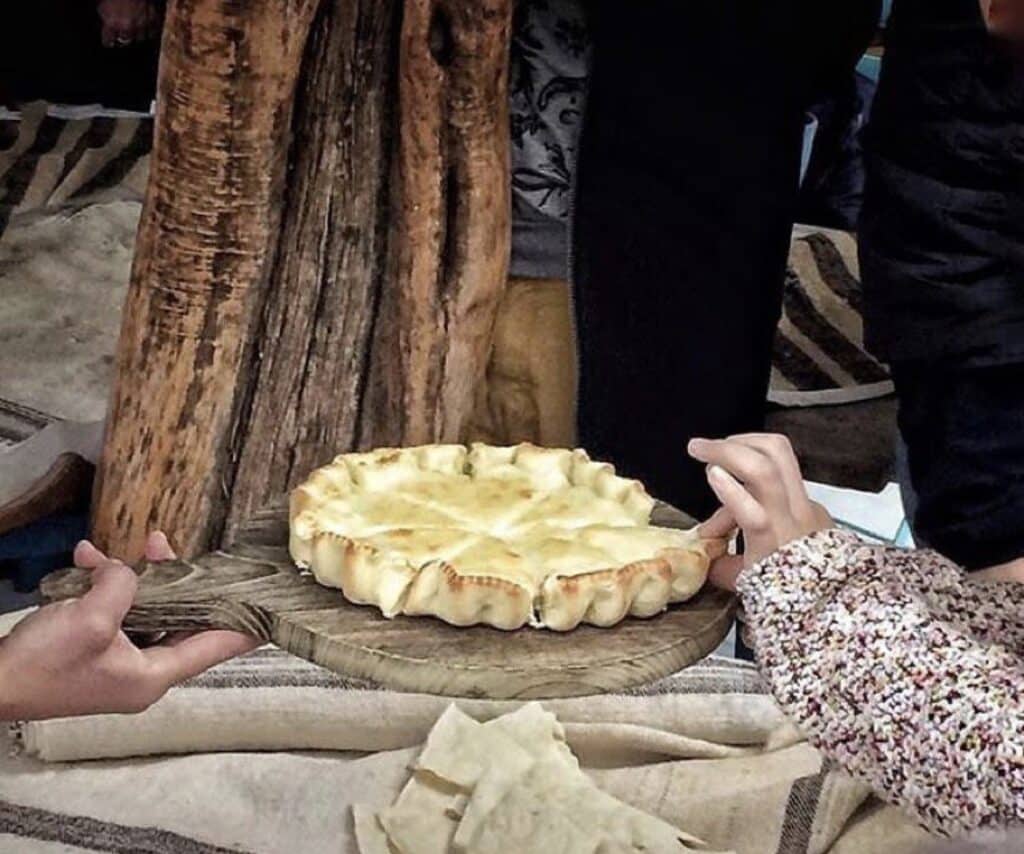 Fregola
Fregola is a pasta, similar to cous cous, but bigger. It is usually served with fish and sometimes with vegetables, Fregola with fish is usually accompanied by typical white wines from the island
Myrtle
Myrtle is a liqueur made from myrtle berries, typical of Sardinia. It is usually served as a digestive or as an accompaniment to be sipped with desserts, e.g. with seadas
Pardulas
These are small sweets made with cheese, saffron and citrus fragrances; their name is influenced by the different dialects on the island, so you can also find them named as sweet casadinas in some areas
In conclusion, Sardinia offers a great variety of foods, the result of a long culinary tradition where the pastoral culture met that of fishermen, giving a vast and varied set of dishes to try for all tastes.
To learn more about the foods to eat in Ogliastra and the agritourisms where you can find them, contact us, we will be able to advise you on the best places to taste them!